Looking to buy a used dozer can lead to poor results and a lot of money down the drain. Today we will talk about what to look for when buying a used dozer, as you want to pay attention to several vital aspects when buying a used dozer.
These components are essential for determining whether the dozer suits your specific needs. These components include the blade, Hydraulics, tires, and tracks.
Whether they are in good condition will help you decide whether the dozer suits your needs.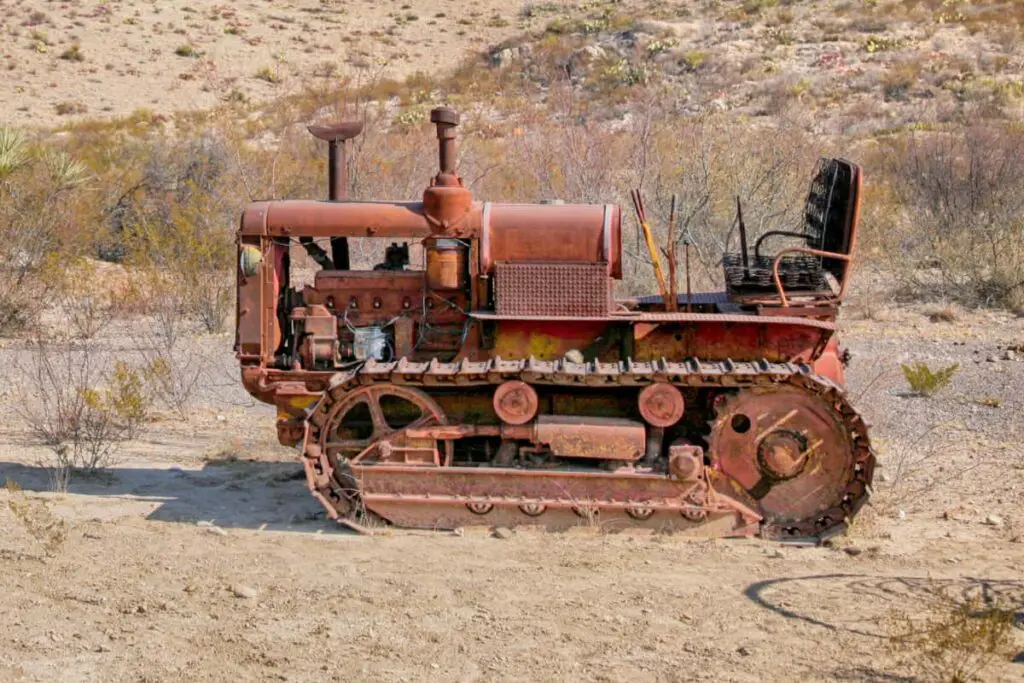 Inspection of the blade
Check the blade for wear and tear, things like dents are normal in construction equipment, but punctures should be avoided.
Also, check for welded places on the blade, as they may indicate rough use or operating conditions.
Low operating hours should not be mistaken for good condition; even new paint can mask exhaustion on the undercarriage. Check the brakes, as well.
You should also look for any refacing or repair work on the blade. If it is rusted, this indicates refacing or repairs.
Also, check for cracks, breaks, and excessive wear and tear on the push arms and cylinders. If these areas are damaged, replace them as soon as possible.
In addition to the blade, check the rest of the mechanical components for leaks and other problems.
The blade may not need repairs if it is still in good shape, but if the blade is too worn out to be usable, it could be damaged by heavy materials or rocks.
It is also essential to check the corner bits for signs of wear and corrosion and if any welding is necessary. Finally, inspect the cutting edge to ensure there is no damage.
Hydraulics
When buying a used dozer, it is crucial to inspect the hydraulic system, especially the rams and cylinders.
The hydraulic system helps a piece perform vital work, so any problems with the power unit can impact productivity on a job site.
Fortunately, you can prevent problems by identifying symptoms and the cause to avoid costly downtime.
Depending on your budget, you can add value to a used dozer by checking the hydraulic system. A well-maintained hydraulic system will save you money on repairs and increase productivity.
In addition, check for leaks and dirty filters. These are signs that the machine has had maintenance issues in the past.
When buying a used dozer, make sure to inspect the hydraulics, as well as the attachments.
The ripper and blades should work correctly, and the controls should be easy to operate. In addition, make sure the tracks and blades are in good condition. It can be costly to replace these parts.
Buying a used dozer may seem like a good idea for your business, but you should always make sure it's in good condition.
Used equipment is an excellent way to save money, and you can find a quality model for an affordable price.
You have to research, follow through, ask for recommendations, and keep an eye out for any red flags.
Tires
Choosing the right tires is very important for the durability of your dozer. Bridgestone loader tires are built to maximize the performance and comfort of the operator.
They are also designed to withstand the most challenging terrain. Purchasing tires from a reputable brand gives you peace of mind and the ability to get replacement parts if needed.
Another essential factor to consider when purchasing a used dozer is its condition. You should inspect the blade and check for signs of repairs, such as plate lines or welding.
Also, inspect the undercarriage for rust and deterioration. If these components are not functioning correctly, it can lead to costly repairs or even complete replacement.
The hydraulic system should also be checked for any leaks or problems.
Tracks
While looking for a used dozer, you should know that not all models have the same tracks or undercarriage.
While these factors are not as critical as the age of the machine, they should be considered. Overly worn tracks may lead to costly repairs or even a total replacement.
Cracks, rust, and leaks are also red flags. While the track condition of a used dozer is a crucial factor in buying a used machine, many other factors should also be considered.
When selling used equipment, private sellers will not always look out for your best interests. While buying a used dozer from a private seller can be a good option, be wary of scams.
Even if the seller is not a dealership, they may be a disreputable dealer with bad peer reviews. Before purchasing a used dozer, you should also look for stolen equipment records and other red flags.
Tracks are another vital feature to look for in a used dozer. These tracks help the machine move over different grades and uneven surfaces.
They also help to disperse weight and form a lower center of gravity. These features make bulldozers an excellent choice for field work, mud and snow removal, and other projects where uneven terrain is an issue.
Cab
Buying a used dozer has several advantages over a new one. For example, you can save a lot of money by purchasing one that still has its cab.
In addition, you can get a machine that has been used for a couple of years. It is also possible to find an excellent deal if you know what to look for.
Check the cab thoroughly to make sure it's still in good condition. Take note of any issues with the steering system, the roof structure, and the windows.
You should also look at the exhaust from the engine. Check for signs of carbon buildup or any other signs of engine service. Check for other safety features, including a camera system and GPS.
Once you know what to look for, you can compare the different brands and find the right one for your needs.
Don't just stick with a single brand; compare features, warranties, and reputations to ensure you get a quality dozer for the money.
Hours on the clock
It is good to consider a dozer's hours on the clock when buying a used one. Although it is a good starting point, it shouldn't be the only consideration when choosing a used dozer.
Depending on the use, some machines may need extensive overhauls or significant component replacements. Buying a used dozer may not be a good option if this is the case.
One way to avoid purchasing a faulty dozer is to keep an eye on the market trends. For example, seasonality may impact the availability of used equipment, and it may affect the price.
However, this doesn't apply to construction businesses. Instead, companies should look 30-60 days in advance and focus on specific projects.
This gives them enough time to research alternatives and discover what they need.
Another option is to use the dealer rental fleet. Many rental companies offer quality equipment and preventive maintenance for their machines.
However, if you can't find a rental company, you can also find a quality used dozer through private sellers or auctions.
Safety concerns
There are various safety concerns to look out for when buying a used dozer. For one, improper use of the equipment can result in costly repairs. Another red flag is excessive undercarriage wear and tear.
This serious concern can result in an expensive repair or even a complete replacement. Other safety concerns include cracks, rust, and leaks.
To avoid these problems, ask a mechanic or other expert for their advice.
One of the most critical safety concerns when buying a used bulldozer is its condition. Before deciding on a used bulldozer, checking the gauges and electronics is essential.
Additionally, look for any off-book modifications that may have been made to the equipment. Additionally, make sure the seller has a reliable reputation.
Another safety concern when buying a used dozer is the condition of the rear attachments. A well-maintained hydraulic system can save money on repairs and increase productivity.
Check for leaks or dirty filters, as these can be signs of previous problems. You should also make sure to test the dozer to make sure that it is in working condition.

Robert Romboa
Just amazed daily by the heavy machinery used to make our days easier and allow for fast and simple construction from your backyard to a city!