Backhoe Loaders are indispensable in the construction industry. They are among the most popular versatile earthmoving and construction equipment that can be used for various tasks.
Backhoe Loaders can be employed to dig ditches, install pipelines, plant underground wires, and construct the foundation for structures and drainage systems, and they can do much more with a few more attachments.  
A general rule of thumb in the construction business is that if you don't use a piece of machinery for over 60 – 70% of the time, you should consider renting it. Otherwise, you should consider buying it.
Also, consider the long-term and future needs—if renting equipment costs the same as or more than buying it, it's time to purchase. But what is the cost to purchase and own a backhoe? 
The cost of a backhoe varies greatly depending on many factors: whether you're buying new or used equipment. However, if you're looking to acquire a new backhoe of 14-foot digging depth and 80-90HP, the prices might range from $55,000 to $75,000.
Read on to learn more!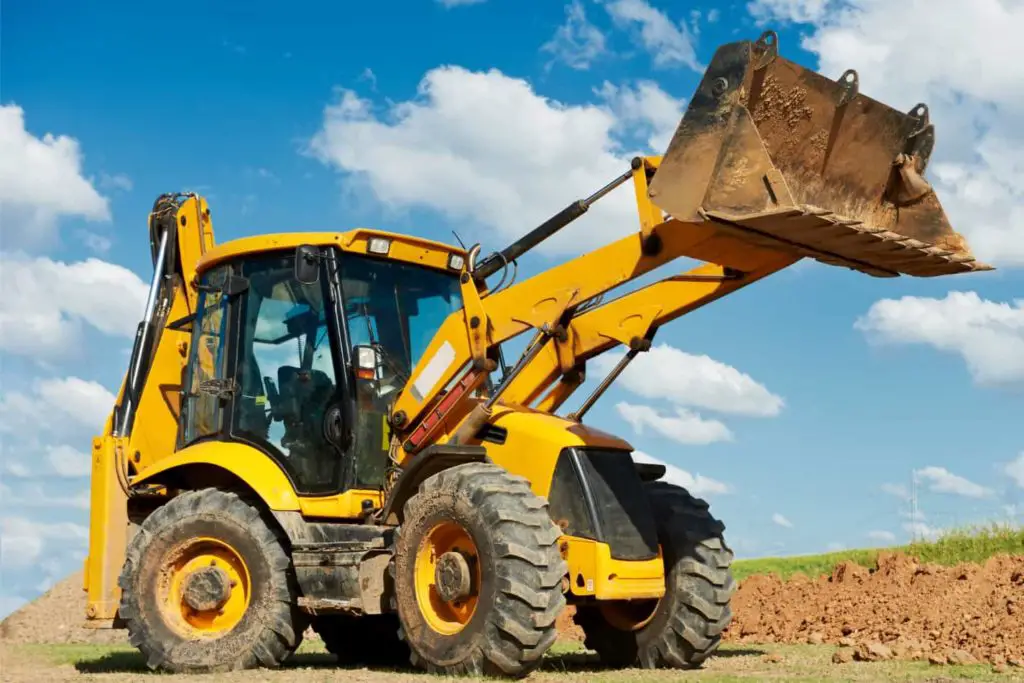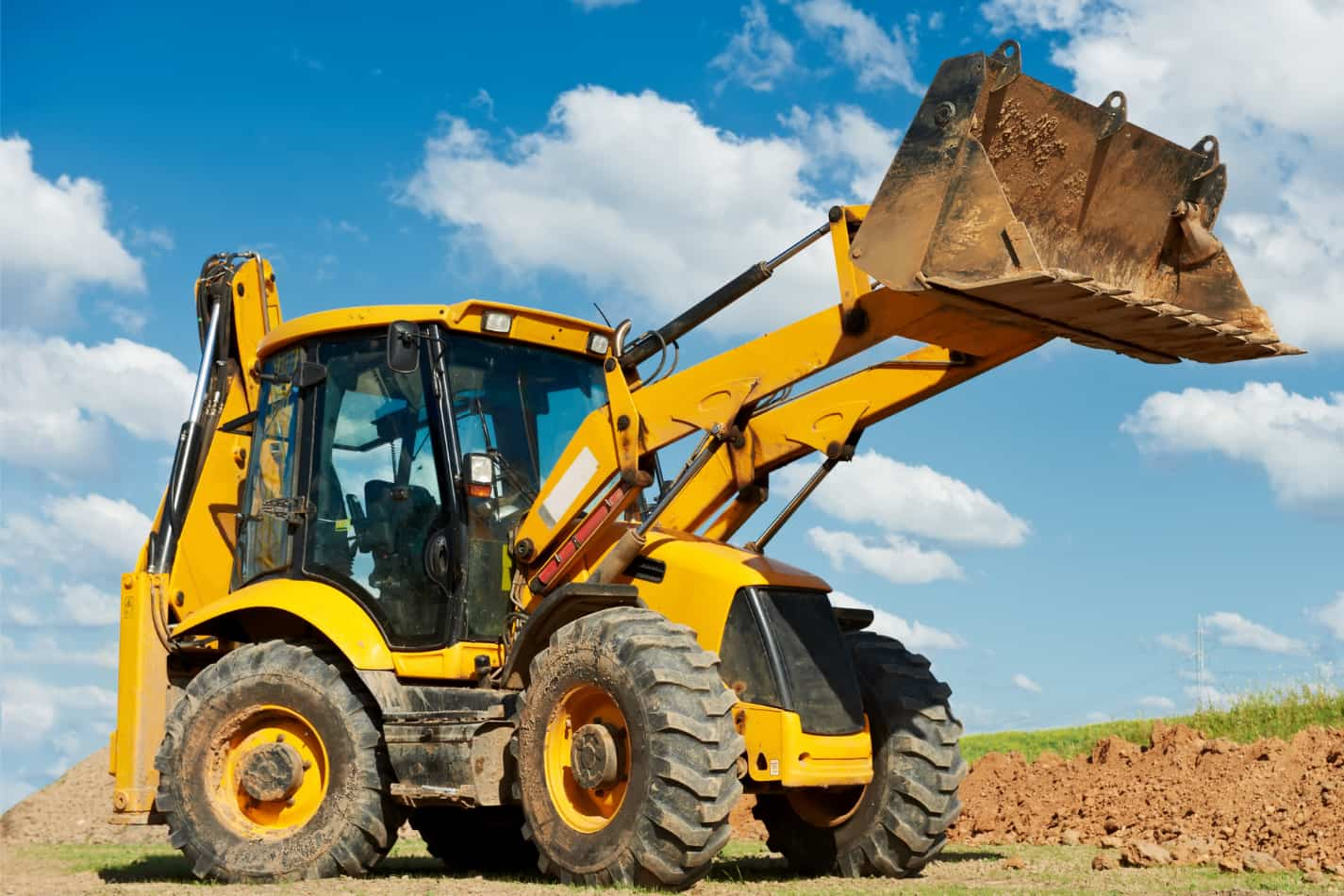 How much does a backhoe cost?
The first thing to decide is buying a new or used backhoe. New backhoe prices vary based on the manufacturer, dig depth, the overall size of the equipment, and any optional features you add, like buckets, saws, and hydraulic hammers. 
The average backhoe has a 14-foot digging depth and 80-90 horsepower, and prices vary from $55,000 to $75,000. The more extra features you add, the higher the cost. With this in mind, you may decide whether to raise or lower your pricing.
Large Backhoes – Models with a 15 to 16 feet- digging depth usually cost $75,000 to $110,000.
Backhoes with a length of more than 16 feet are likely to cost well over $100,000.
Backhoes – Models with a digging depth of 9 to 10 feet cost between $25,000 and $35,000.
Notes! The costs shown above are estimates for brand new backhoes. Backhoe models that have been used have a lower price tag.  
However, besides the unit's initial cost, there are various other considerations to examine to decide whether to buy a new or used backhoe. 
Factors to consider when deciding whether to buy a new or used backhoe? 
Used machines may be less expensive, but new machines come with all-new parts guaranteed by warranties. Funding terms for new machines are usually substantially better.  
Buying used may be the best option if the backhoe is only used as a support component or for a short-term job. Notwithstanding, you must be cautious when buying a secondhanded backhoe and ensure that you purchase it from an authorized dealer. This guarantees that the equipment has been inspected thoroughly by a factory-trained technician.
Also, acquiring used equipment from an auction house or a private owner involves too many potentially costly fixes lying beneath the surface. 
Additional Attachment Costs to Consider 
Separate attachments such as drills, forks, hammers, and other tools will have to be purchased individually. Brand new bucket forks vary from $2000 – $10000.  On the other hand, used hydraulic hammers cost between $7,500 and $11,000.
Taxes: It is essential to pay all your taxes at the time of purchase. Generally, taxes typically account for 17-21 percent of the machine's overall cost.
Transport:  When moving a backhoe loader over long distances, you'll require specialized trailers. A heavy equipment trailer can range from $2,000 to over $10000. 
Backhoe repairs and maintenance are required, just like any other machine. Parts may break and need to be replaced. If your equipment breaks down, you'll have to take it in for repairs. Maintaining your unit is a smart habit to get into to make repairs less common later on. But the cost will be determined by your machine's model.
Shipping Cost: When you buy a backhoe, you will have to pay to deliver it to your location. However, most secondhand machinery merchants will refer you to third-party shipping businesses that may deliver the equipment to you directly.
Backhoe Insurance: Because backhoe loaders are costly, it will be great to get them insured. You can find so many insurance companies online that specialize in construction machines. Also, remember to collect the rates from the companies you're interested in because the rates vary.
Can you carry out backhoe maintenance by yourself? 
While some backhoe owners are confident in repairing and maintaining their machinery, this is typically a job best left to the professionals. It's always crucial to concentrate on your talents. If your job is construction, you might not really have a mastery of how to maintain and repair equipment. 
Also, backhoe maintenance technicians have the necessary tools, equipment, and training to do repairs and maintenance on time and according to the manufacturer's specifications.
When done correctly, component lifecycles are lengthened, resale value is maintained, and downtime is rarely an issue. 
What else do I need to know regarding purchasing a backhoe? 
You may obtain a backhoe rate directly from the company website. It is possible to get all the information you need, including prices for new and used machines and various payment options.  
You must be trained to operate a backhoe loader to manage one. The operator should have used one before or have received instruction on how to do so. Inexperienced users risk damaging the equipment and its surroundings and injuring themselves and others.
Periods of use – The more a caterpillar backhoe has been used, the less expensive it becomes. Typically, machines that have been in operation for more than 8000 hours might cost half as much as ones that have only been in use for 100 hours. Even though they appear to be less expensive, the lengthy hours of usage might cause the machine to wear out.
When buying a backhoe, choosing a brand with a location or a service center near you is advisable. This ensures that the parts you want are readily available in your area. The firm that makes the construction equipment will perform better repairs, so picking a brand that can be serviced in your region is a wise choice. 

Robert Romboa
Just amazed daily by the heavy machinery used to make our days easier and allow for fast and simple construction from your backyard to a city!