If you are looking for a mini excavator rake attachment, there are several options. These include the Werk-Brau grading, grapple rake, and FAE RC Rock Cutter.
These products are designed for ease of use, durability, and optimal clamping and gripping action.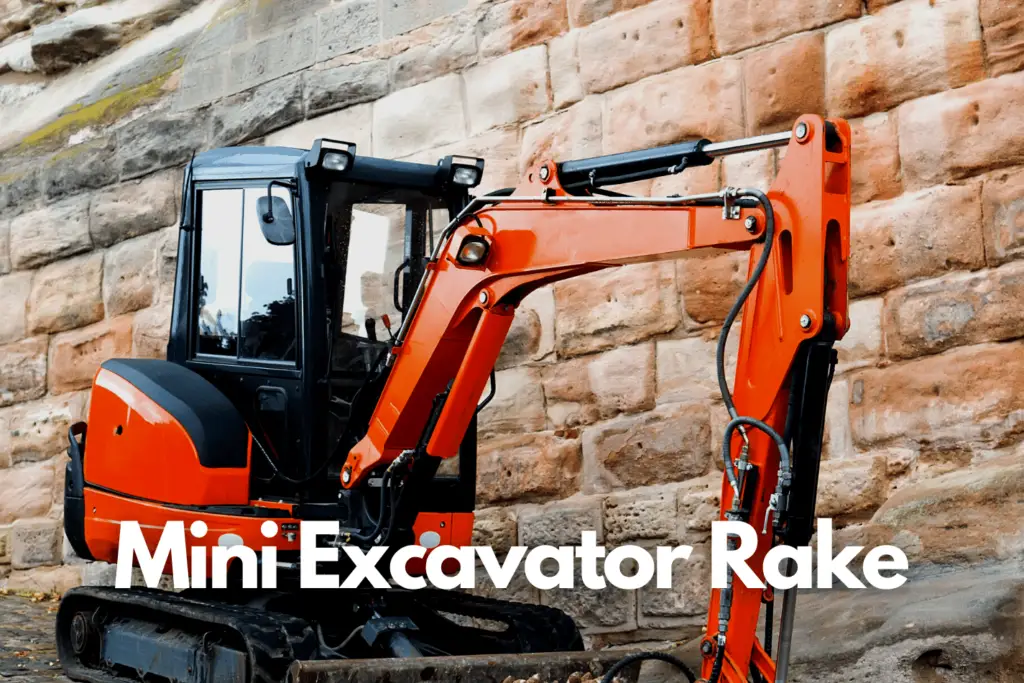 QC Rake
The QC Rake is a versatile and useful mini excavator attachment. Its design is similar to that of a traditional garden rake, but with several thin tines that help to scrape dirt. This tool is particularly useful for clearing land or removing rocks and other undesirable debris. The QC Rake has a number of different sizes to match various types of mini excavators.
The QC Rake is a multi-functional attachment that allows you to rake dirt, rocks and roots. It is suitable for a variety of jobs, such as land clearing, demolition debris, and vegetation management. It can be used on 3T to 10T excavators and skid steer loaders.
The QC Rake attachment is the perfect tool to clear land of unwanted debris and remove stumps. Its cutting edge is thick and durable, while its curved tines provide maximum force projection and make an excellent high-leverage tool. It also features a patented Coupler system that enables operators to switch attachments without losing break-out force.
Is it Possible to Use a Mini Excavator Rake Attachment for Making Hay Bales?
Is it possible to use a mini excavator rake attachment for making hay bales? While mini excavator rake attachments are primarily designed for land clearing and brush removal, they are not suitable for making hay bales. To efficiently make your own bales, it's best to use specialized equipment like hay balers, which are specifically engineered for this purpose.
Werk-Brau's grading and grapple rake
The Werk-Brau grading and grapple rake is a versatile attachment that can be fitted to a mini excavator. Designed for demolition debris, this rake replaces the bucket and is integrated with hydraulic grapple action. Its heavy duty teeth and reinforced construction are resistant to wear and tear.
Various sizes and configurations are available, including a multi-tined model. This attachment has an underside that is serrated to help prevent slipping, while reinforced and greaseable bushings improve gripping force. It also has hardened bushings and reinforcing plates to ensure maximum durability and reliability.
In addition to grading and grapple rakes, Werk-Brau offers a wide range of attachments for mini excavators. These machines are suitable for a variety of applications and tasks, including clearing and trenching. Other useful mini excavator attachments include the Road Widener and Hydra-clamp bucket.
Case Construction Equipment's hydraulic hammer
A hydraulic hammer is a tool designed for mini excavators that allows operators to make demolition blows in a fast and efficient manner. It is a hydraulic hammer that uses nitrogen gas to cushion the piston on the upstroke and increases its force during the downstroke. Case Construction Equipment's hydraulic hammer has two moving parts and features low recoil, a long stroke piston and pre-configured hoses. The hydraulic hammer is equipped with a three-year limited warranty.
The hydraulic hammer for mini excavators works with an auxiliary hydraulic circuit to maintain the correct hydraulic flow. It must be set properly to ensure proper function. The hydraulic hammer attachment should be greased once or twice a day before each use. It is advisable to press the attachment in place before applying grease. It is important to check the attachment's bushing, bolts and retainer pins before each use.
A hydraulic hammer can be used on mini excavators with a minimum of two horsepower. Other new hammer attachments include a trencher, ditching bucket and a hydraulic hammer. These products are designed to handle a variety of soil conditions, including soft and hard soil.
A hydraulic hammer is also known as a hoe ram or demolition hammer. Mini excavators with a hammer attachment are typically the choice of most contractors. It is also commonly used for removing concrete decks and piers.
FAE RC Rock Cutter
The FAE RC Rock Cutter for mini excavation rakes is a high-quality attachment that works on excavators up to two tons in weight. Its powerful jaws are capable of crushing rock and hard surfaces with working widths ranging from 14.5 to 25 inches. Its hydraulic direct-drive piston motor eliminates daily maintenance and features a safety cover. This attachment also features heavy-duty rock teeth and replaceable drum teeth.
The FAE RC Rock Cutter for mini-excavator uses the same helical-assisted design as the Graptor Bucket to deliver a high level of holding power and improved flexibility. It can also withstand even the toughest debris, with a gripping force that's more than five times higher than a standard bucket. Its heavy-duty tines are reinforced with gussets and plates that help prevent detachment.
The FAE RC Rock Cutter for mini-excavator rake attachment is ideal for clearing land. Its quick-coupling system lets operators swap out attachments while working in the cab. Aside from rock-cutter attachments, Solesbee also offers a line of blade-mounted dozer rakes for mini-excavator work. In addition, the company introduces new grading buckets for compact excavators. Other new compact excavator attachments from companies like Bobcat include a variety of water channels to help control dust.
The FAE RC Rock Cutter for mini-excavator rakes comes with a patented rock-cutter blade that helps maintain a consistent grade. The company also offers a large variety of orange peel grapples.

Robert Romboa
Just amazed daily by the heavy machinery used to make our days easier and allow for fast and simple construction from your backyard to a city!