You can now get a Heavy Equipment Operator Certification online. This training program will prepare you to operate heavy equipment safely.
The courses will include topics such as basic safety training, maintenance of heavy equipment, and more. These courses can be taken online or offline.
The costs and requirements for certification will be discussed. After you complete the course, you can take the test to get your certification.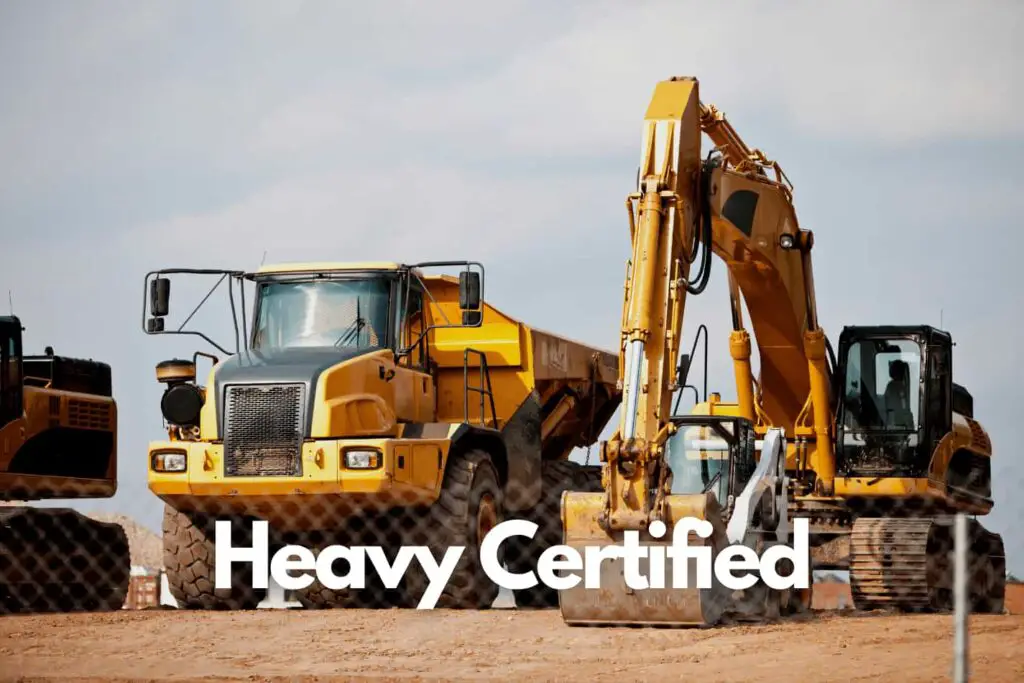 Safety training for heavy equipment operators
Heavy equipment is a dangerous form of labor. Operators must be trained to deal with the dangers that come with operating the equipment.
They should also be aware of the limitations of certain machines. They should never use equipment that is not intended for a certain task.
They should also pay attention to the equipment's safety features, such as the brakes.
It is possible to obtain a certificate of completion in heavy equipment operator training online. These courses cover a variety of topics, including basic machine controls, safety, maintenance, and inspection protocols.
Professional instructors usually review online courses before being posted to the website. If you're not certain about the quality of online training, you can contact a heavy equipment school or company to get more information.
Online courses also allow you to earn an OSHA Safety Certificate or similar certification. These certificates are important in the job market and will increase your value to employers.
However, you should make sure that the certification you are pursuing will show that you know your stuff.
For example, you should get a General Industry 1910 certification if you're an operator in the construction industry.
In addition to the online courses, you can find specialized courses for operators. For example, ClickSafety offers Machine Guarding, a specialized course focused on machine guarding.
This training course will teach operators how to install, inspect, and maintain machine guards properly. In addition, it will teach the proper terminology for machine guards.
The EdApp course consists of five micro e-learning lessons, which your workforce can complete in a matter of minutes.
Another example is the Heavy Equipment Operator School, which offers an online course for heavy equipment operators.
This online course covers the hazards associated with heavy equipment operations and heavy equipment inspection standards. This course is just 20 minutes long.
The National Center for Construction Education and Research (NCCER) has developed a program for heavy equipment operators that was designed to meet the growing demand for skilled operators.
This program is divided into two levels, Level 1 and Level 2. The Level 1 program provides an introduction to the trade and essential skills.
It also covers heavy equipment safety, site layout, and basic controls.
Can I Get a Dump Truck License if I Have Heavy Equipment Operator Certification Online?
If you hold a heavy equipment operator certification online, you may wonder where to obtain a dump truck license. With this certification, you already possess the necessary skills and knowledge to operate heavy equipment, including dump trucks. However, the specific requirements for obtaining a dump truck license vary depending on your location. It is advisable to reach out to relevant authorities or consult local regulations to determine the steps you need to take.
Courses available online
A certificate of heavy equipment operation is necessary to work on heavy equipment. The course offers comprehensive training in operating heavy equipment and provides the foundation for a career.
Courses also include specialized training in confined spaces, preventative maintenance, mechanical systems, and safe work practices. The certificate program is available online.
The National Center for Construction Education and Research offers the program and is designed to meet the increased need for qualified equipment operators.
Level one of the certification program consists of the Level 1 class that provides foundational skills in the field, introduction to heavy equipment and its operation, and safety.
Students will also learn how to interpret and read civil drawings and conduct simulator exercises that teach basic controls.
Forklifts play a vital role in many industries. They have several uses and meet ANSI and OSHA requirements for safe load handling.
In addition to forklifts, powered industrial trucks are also important in many industries. Learn how to operate a stand-up forklift safely.
Aside from the safety and training, the certification is recognized by employers as proof of your knowledge and expertise.
Operators with this certification are more likely to be promoted to the position of operator. On average, an operator earns between $34,373 and $38,822 per year. A certification will also improve your resume.
Online training for heavy equipment operator certification focuses on the proper operations of heavy equipment and the safety of those working around it.
Instructors also teach the proper use of personal protective equipment. Training are conducted online and can be completed at a student's own pace. The course is designed for both beginners and experienced operators.
There are many different courses available for heavy equipment operator certification. Some are required by the Occupational Safety and Health Administration, including training on handling heavy equipment safely.
The training teaches proper safety procedures, proper handling techniques, and important safety tips.
Students can choose from various online and in-person courses that cover the various roles in the heavy equipment industry.
Requirements for certification
There are several ways to earn a heavy equipment operator certification online.
Some of these programs offer specialized short courses in safety awareness, such as excavation safety, work zone safety, and confined space entry.
They can also help you learn about heavy equipment mechanics and best practices when operating them.
In New York, for example, you must be certified to operate heavy equipment.
In addition to certification, employers will typically seek applicants with significant experience in machine maintenance, substantial equipment operation hours, and an understanding of GPS and satellite coordinates.
These skills can be valuable to employers and can make your resume stand out in the pile. When deciding whether to obtain a heavy equipment operator certification online, consider the pros and cons of various learning resources.
Most training programs for heavy equipment operators include classroom instruction and hands-on operation. The course will take 10 to 12 weeks depending on the program.
Some programs require additional requirements, such as a CDL. If you don't want to invest in an online course, you can choose a traditional program at a college. These programs are also available in many states.
Although formal education is helpful, heavy equipment operators learn most of their knowledge on the job.
Entry-level operators typically work alongside more experienced crew members, gaining experience and learning about their equipment's capabilities and job expectations.
They also learn about proper maintenance and safety practices. Some states require heavy equipment operators to hold a DOL card, which shows that they have received basic safety training. Online courses provide the best training for the DOL card.
Online heavy equipment operator certifications are available to people around the world. An online course can provide valuable training if you're looking to certify or train someone else.
An online course can help you learn the basics of machine control, operation safety, and maintenance protocols. Many of these courses have been reviewed and verified by professional instructors.
In addition to online coursework, many online schools offer hands-on training with high-quality equipment. Many have a flexible schedule and use simulations to simulate real-world operating scenarios.
They follow strict guidelines and offer accredited coursework.
Cost of training
Online schools are more affordable than ground schools because they have less overhead costs.
Typically, students take a full course and pay around $4,500 to $12,000, although some schools offer discounts and payment plans.
You should know precisely how much the course will cost before you enroll, as this will help you set a budget.
You can even pay for the training in installments if you'd like. Contact the school's representatives to discuss payment plans and discounts.
Some training institutes charge between $50 and $200 for certification. You'll also need to pay an application, registration, and administrative fee.
Some training schools also require that you pay for a DOT Physical/Drug Test, which costs about $150.
The certification cost depends on your state and the type of heavy equipment certification you're seeking.
Certifications are also valuable because they prove to potential employers that you know your stuff. Many options are available, and you can find a program that's right for you.
Certifications range from general safety to construction and industry-specific. Some schools offer multiple certifications, which increases your overall value.
If you're looking for a career in heavy equipment, it's worth considering. The demand for these workers is increasing in the US, especially in the construction and infrastructure industry.
If you're interested in joining this growing industry, you'll want to be prepared to invest in the training and effort required to become a qualified heavy equipment operator.
Before you start training, you should find out exactly what certifications you need to get started. Start by checking out local job listings and regulations to ensure you're qualified.
Most licensing exams include a written and a practical component. The written part may assess your mechanical knowledge and math skills, and the practical part may involve performing tasks for the instructor.
You'll also need to complete a medical examination if you plan to drive large equipment.
Some schools require you to attend a school in your area. There are schools in Columbus, Ohio that offer heavy equipment operator certification courses.
These schools can help you earn a good living while preparing you for a career in heavy machinery. If you are looking for a high-quality course, check out Performance Training Solutions.
They can help you get credentialed and make a lot of money in a short time.

Robert Romboa
Just amazed daily by the heavy machinery used to make our days easier and allow for fast and simple construction from your backyard to a city!